Limousine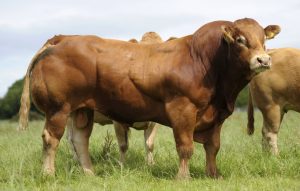 A large-sized meat breed with a good balance between butchering skills (good growth and good conformation) and maternal qualities, the Limousine provides a wide range of finished products, from milk-fed veal to heavy heifer, Young cattle. Its particularity: to give a finished product at any age. It is used in pure breed and crossbreeding.
The Limousine owes its name to the region from which it originates, the Limousin, located to the west of the Massif Central. It comes more precisely from the department of Haute-Vienne. Fine frame, well-rounded panties, its dress is of bright wheat color (mahogany) with clearer aureoles around the muzzle and the eyes. Its mucous membranes and horns, arched forward, are clear.
It is perfectly adapted to the harsh climatic conditions of its original cradle and its difficult terrain.
Weight of adult bulls: 1,000 to 1,300 kg
Weight of adult cows: 650 to 850 kg
Average height at the withers of adult cows: 135 to 145 cm
♦ 95% easy calving
♦ Birth weight: 40 kg female / 42 kg male
♦ Weight 120 days: 158 kg female / 169 kg male
♦ Weight 210 days: 250 kg female / 277 kg male
♦ Carcass yield: 57 – 62%
♦ Carcass weight: – bull calf 15 – 18 months: 375 – 420 kg
– cow :380 – 420 kg
---