Assaf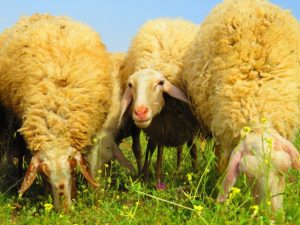 The Assaf sheep is a breed of domestic sheep which was originated from Israel. It was developed by crossbreeding the Awassi and East Friesian sheep.
It is a dual-purpose animal and raised for both meat and milk production. But it is used primarily for milk production. Along with the availability in it's native area, the breed has also spread to other Mediterranean countries.
The Assaf sheep are raised and managed under an intensive production system in Israel (involving weaning lambs at birth, rearing them artificially and milking the ewes after parturition). Researchers of the Israeli Agricultural Research Organization started the development project in 1955, aiming to improve the fecundity of the Awassi sheep breed. And the Assaf sheep is a combination of 3/8 East Friesian and 5/8 Awassi blood.
The Assaf sheep are medium sized animals. They are mainly white in color with white face. Both rams and ewes are generally polled.
The ewes have approximately 3 lambing in 2 years under Israeli conditions. Average annual milk production of the ewes is around 450 kg.
| | |
| --- | --- |
| Breed Name | Assaf |
| Other Name |  None |
| Breed Purpose | Mainly milk, but are also prized for quality meat production |
| Special Notes | Very hardy and strong animals, well adapted to their local climates, also do well in some other countries, most of the Israeli sheep breeders have adapted these animals for producing milk, well adapted to semi-extensive to extensive management system, the ewes are good milk producers, they produce around 450 kg milk per year, the ewes approximately have 3 lambing in 2 years, |
| Breed Size | Medium |
| Horns | Generally polled |
| Climate Tolerance | Almost all climates |
| Color | Mainly white |
| Rarity | Common |
| Country/Place of Origin | Israel |
---